UltraCraft

Cabinets Reviews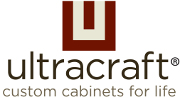 Popularity:
#
18
of 40 brands of cabinets
36% of customers recommend
Very Satisfied

27

Somewhat Satisfied

0

Neutral

2

Somewhat Unsatisfied

6

Very Unsatisfied

38
The opinions expressed in these reviews are the opinions of consumers that submitted reviews to KitchenReviews.com. They do not necessarily represent the opinions of KitchenReviews.com.
Read more about UltraCraft Cabinets
Read consumer reviews of other Cabinet brands

Write a review
---
Date created: 2019-07-25 Name: L. Orr
Location: WA
Model/Style: Cabinets

Satisfaction Rating:


Review:
"Beautiful but don't hold up"


I loved these white painted cabinets when installed two years ago. But the paint finish is not thick enough and has resulted in problems. While cooking something must have had a tiny splash on a drawer front. I tried to clean it but it stained the drawer and is permanent now. I realized then how thin and absorbent the paint on the drawer facade was. Then a corner upper cabinet above the range had a problem with the paint finish on the edge. I noticed there too the finish was very thin. Ultracraft paid for 1/2 the replacement cabinet and my installers included the install under their warranty. After they installed the new cabinet i noticed a thin spot in the same area so touched it up by dabbing a toothpick in paint to avoid future problems with it. The resellers said it was because I boiled water on the range top. Then I noticed a spot on the painted underside of a cabinet peeling. I touched the paint and a piece about 1/2 came off. I tried touching it up but the paint isn't adhering very well. Resellers said I must be using a coffee pot or toaster under the cabinet. Normal wear and tear. Then I had a small glass of water spill on my counter and dribble down the front of several drawers. Knowing how fragile these cabinets are I wiped up the spill right away and it had gone into the drawers all the way down to the bottom drawer. I thought I got everything but there must have been a thin film of water on the top of the drawer front and it cracked. They replaced the drawer front for me. So the cabinets are gorgeous but the paint finish holds up poorly especially on the edges of cabinets and the drawer facades. So if you don't cook, boil water, make coffee, have a toaster you should be ok. I would not buy these cabinets again and am not optimistic about how they will hold up.
---
Date created: 2019-05-23 Name: Jane Doe
Location: San Rafael, Ca
Model/Style: Cabinets

Satisfaction Rating:


Review:
"Deceptive marketing practice- warranty is not upheld"


We built a new home and with the local dealers recommendation we bought Ultracraft cabinets for a 4000 square foot home. White painted cabinets within the first year began to chip around the edges. Initially Ultracraft replaced those that had the most chipping. They have continued to chip with some having the laminate pull away. Their response today is "this is normal wear and tear". Deceptive marketing practices with their stated warranty of 100 years . They will tell you it's "normal wear and tear".
---
Date created: 2019-05-20 Name: Sallie freeman
Model/Style: Cabinets

Satisfaction Rating:


Review:
"Cheap"


Rickety, poorly crafted. I live by myself and after 4 months, cabinet door fell off. Would love to post the photo....but appears I cant. Stay away from this brand.
---
---
Date created: 2019-05-15 Name: Sharon Franco
Location: Foster, R.I.
Model/Style: Cabinets

Satisfaction Rating:


Review:
"awful!"


I do not recommend this product. Peeling, glue did not hold, peeling away from the door. We have called the company and no one gets back to us. Yes they are easy to clean but the product itself is flawed. We have tried to contact representatives but no one gets back to us. One representative made an appointment to look at the product in our home and never showed up. He never called either. Bad all the way around. We now have to replace several doors and faces of doors where the glue has let go. Poor product. Poor company. Do not buy!
---
Date created: 2019-02-19 Name: Jeffrey
Location: Virginia
Model/Style: Cabinets

Satisfaction Rating:


Review:
"Great experience"


I read some of the reviews here and was hesitant to buy, until I really read the reviews. Many of the reviews are more about the dealer and installer being bad than the product. I bought Ultracraft and could not be happier! My dealer and installer were not the cheapest, but really they knew what they were doing. My cabinets arrived when they promised. Were installed without a problem. Have been in for several years and I could not be happier. Plus, I know if there is a problem, these cabinets have a 100 year warranty! I am totally satisfied and recommend buying Ultracraft. Just buy them from a reputable dealer and use a quality installer.
---
Date created: 2019-02-18 Name: Carol kubic
Location: Vienna va
Model/Style: Cabinets

Satisfaction Rating:


Review:
"Company does not back"


My cabinets are 4 years old and I have medium brown finish and toffee color. I am giving no stars even though my problem is only with the toffee colored cabinets. The company has a 99 year warranty but I have no clue as to what that would ever cover. They claim the bubbling of the finish is normal wear. The bubbling is nowhere near a water source vent or moisture. Chipping is also a major issue
---
Date created: 2019-01-06 Name: S. A.
Location: Sacramento
Model/Style: Unsure

Satisfaction Rating:


Review:
"Horrible"


My designer swore these were semi custom. My contractor is a new distributor. They are flimsy, cheap, and scratched. The glass uppers, He hot glued the glass into right in my kitchen. Hot glue on my glass. The back of each cabinet has adhesive dots covering the screws going to my walls. These are seen in the glass uppers also. I spent 27 grand on absolute crap. The contractor himself is a nightmare. hes a handyman acting as though he is a contractor. Stay far away.
---
Date created: 2018-07-14 Name: Karl
Location: Hampton bays NY
Model/Style: Cabinets

Satisfaction Rating:


Review:
"Horrible Craftmanship"


Had a designer recommend these cabinets in our kitchen. After about 5 years I noticed that the skin/face of the cabinets started separating on a few of the doors and drawers. Now its a bout half of the doors have the plastic face popping off the base. You can see a bulge where they have come loose and when touched, they move. A few are even cracked. Horrible work and the company does not stand behind their mistakes. Stay clear of this company. Their product is awful!
---
Date created: 2018-03-25 Name: Carol A.
Location: Chicago, IL
Model/Style: Donít know

Satisfaction Rating:


Review:
"Buyer Beware"


I have had my cabinets since 2012 and the cabinet and drawer that is next to my stove is warped, the thermafoil is peeling off, so they have sent me replacements for both at no charge. When you turn on your oven to be cleaned, you need to open both the drawer and door, even though the contractor installed the metal heat protector when he was installing my cabinets. I do this now every time for fear that if I donít open them, they will warp again! Would I ever buy these cabinets again, no!
---
Date created: 2018-02-27 Name: T Greenhalgh
Location: Massachusetts
Model/Style: Rockford Cherry

Satisfaction Rating:


Review:
"Beautiful Finish & Fit"


Thank you UltraCraft for making my dated dark 1960's kitchen into a showpiece. My family loves the organization and fit of these cabinets. Our architect and designer found UltraCraft easy to work with, and they were able to mix a painted finish and cherry stain finish to give a seamless look to my kitchen and dining room. So much so, that my kitchen won first prize in a local design contest! We look forward to many happy years of use in our new kitchen.
---