How Much Does Kitchen Cabinet Refacing Cost?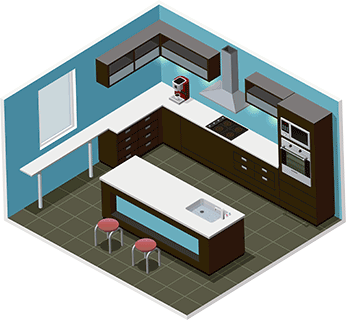 Kitchen renovations usually start with the kitchen cabinets. A homeowner may choose to replace their kitchen cabinets with entirely new ones, or they'll choose to enhance their existing kitchen cabinets by making them look better on the outside. If you choose the latter option, you can either reface or refinish your cabinets. What is the difference?
Refinishing means that you're modifying the existing color of the kitchen cabinets. The exterior color that you see is called the finish, so you'd be switching the finish with a new finish that is a different color. On the other hand, you can choose to go a step further by refacing the kitchen cabinets instead. Refacing means you're actually adding a new layer of material over the current frames of the cabinets. You'll also be replacing the front drawers and doors as well.
If your kitchen cabinet has suffered any kind of damage over the years, such as cuts, dents, cracks, water damage, or chips, then refinishing would not be good enough to fix it. You would need to do a refacing job to eliminate any signs of damage. Then your cabinets will be left with a perfectly smooth surface.
The Cost of Refacing
How much will your kitchen cabinet refacing job cost? The cost of kitchen cabinet refacing depends on the dimensions of your cabinets. The standard dimensions for kitchen cabinets are 10' x 12', which means a professional refacing job would cost you between $1,000 to $3,000. However, this price range only applies if you're adding laminate to the top of the cabinet surface. If you choose a premium quality material, such as wood veneer, then the refacing cost will be between $2,500 and $6,000. Better quality wood may even increase the cost to between $7,000 and $9,000.
Therefore, the dimensions of your kitchen cabinets and the type of material you apply to the surface of the cabinets will determine the overall cost of refacing. But it will always be cheaper than paying to replace your cabinets. If you were to hire a carpenter to build your new kitchen cabinets from scratch and then install them, you'd be looking at a cost of $5,000 to $10,000 for a standard job. But if you wanted custom cabinetry in your kitchen with a unique shape and dimensions, then the cost would be between $10,000 to $20,000.
As you replace the front doors and drawers, you'll also need to purchase new hinges, pulls, fasteners, and knobs for them too. The price per piece is anywhere from $2 to $50, depending on the material and sophistication of the pieces. In the end, these additional pieces could end up costing you an extra few hundred dollars.
Is Cabinet Refacing Worth the Cost?
There are lots of reasons why you might think refacing your kitchen cabinets is a worthy investment. Perhaps you'll want to sell your home and make it look spectacular to prospective buyers. Since the appearance of kitchens is criticized heavily by prospective buyers, then refacing your cabinets might get you a higher selling price for your home.
Refacing is a much faster process than replacing the cabinets. It also costs about 50% of the price, depending on the materials you use. You won't even need to tear out the cabinets either. Your cabinets can stay mounted exactly where they are in the kitchen. The refacing job can be done wherever they are positioned.
About Wood Veneer
Wood veneer is a thinner slab of wood that is used for aesthetic purposes more than anything else. If you have solid wood kitchen cabinets and you want to reface the surface of them, then wood veneer can match their color and texture. Meanwhile, the wood veneer is a cheaper material than having to build all new solid wood cabinets.
So, you can basically restore the appearance of your solid wood cabinet without having to purchase new solid wood materials. That is why refacing with wood veneer is such a good deal. You get the affordability, and the aesthetics all rolled up into one. No one will be able to tell the difference when they see the wood veneer on top of your older wooden surface. They'll simply think you have brand new wood cabinets in your kitchen.