How Dangerous Is Your Dishwasher?
The Importance of Checking for Recalls Before and After You Buy a Dishwasher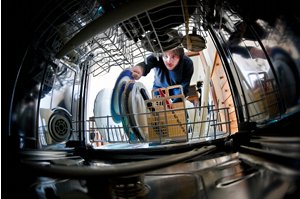 While purchasing, owning and operating a dishwasher may seem like a fairly innocuous thing to do, the fact is that these appliances have been the subject of a number of recalls. In particular, a search of the U.S. Consumer Product Safety Commission (CPSC) found that over the past 20 years the organization has initiated at least 13 recalls of dishwashers due to the fire hazard posed by specific models.
The most recent of voluntary recalls occurred on January 15, 2009. Approximately 476,500 Bosch and Siemens dishwashers were subject to safety concerns after the manufacturer -- BSH Home Appliances -- received 51 reports of incidents, including 30 reports of fires resulting in property damage. On May 16, 2007, the CPSC reported a voluntary recall of approximately 2.5 million dishwashers manufactured by GE after the company received 191 reports of overheated wiring, which included 56 reports of property damage -- 12 of which were fires that escaped the dishwasher. And the February, 2007, voluntary recall of approximately 2.3 million Maytag dishwashers (see below for an important Consumer Reports rating on Maytag dishwashers) after the company received 135 reports of dishwasher fires resulting in product and/or property damage.
According to Jill A. Notini, spokesperson for the Association of Home Appliance Manufacturers, the fact that there have been recalls is not indicative of a lack of attention to issues related to safety among the companies she represents.
"All appliances, including dishwashers, undergo very stringent safety testing before they are put into the marketplace," says Notini. "For example, there are about 7 million new dishwashers shipped in the U.S. each year, which translates into millions and millions of units in American's homes, and the vast majority of those units have not been subject to a recall. Consumers should feel very confident about the safety of their appliances."
Notini adds that all of the manufacturers her organization represents follow safety standards developed by Underwriter Laboratories Inc., which entails stringent testing and safety requirements related to design, child safety, wiring, plastics, components, and more. "As models are developed, they will undergo testing as part of the design process and then during manufacturing these units undergo stringent quality control checks," she said.
And yet, despite the precautions taken by manufacturers, there are still periodic recalls of dishwashers -- and other appliances -- due to safety concerns. The bottom line is: though these products are safe, no system is perfect.
This is where the CPSC comes in, says Patty Davis, a spokesperson for the CPSC. By law, manufacturers, distributors and retailers are required to notify the CPSC within 24 hours if they obtain information that a product contains a defect that could create a substantial hazard, fails to meet a consumer product safety standard, creates an unreasonable risk of serious injury or death, or if it fails to comply with a voluntary standard. Companies that fail to issue reports face stiff penalties from the CPSC.
According to Davis, prior to a recall the CPSC works with retailers and others to ensure that products are removed from showroom floors. This means that if you go to a retailer today looking for a dishwasher, it should not be the subject of a recall -- it is illegal for recalled products to remain in stores. However, it is possible that after purchase a recall could be issued if a safety issue arises.
"If you have a dishwasher in your home, it is important to fill out and send in any warranty information so that the manufacturer can inform you of any recalls," said Davis. "People can also search for recalls at our website www.cpsc.gov as well as sign up to receive recall notices by email."
Steven H. Saltzman, a deputy editor for Consumer Reports, echoes Davis' comments, saying, "Register the product because it is the fastest way to find out about a recall. These things are hard to predict because when I think about it, GE is not considered to be a high-repair brand, but they had a 2.3 million unit or so recall due to a fire hazard issue a couple of years ago."
In addition, both Davis and Saltzman recommend that if you are considering purchasing a used dishwasher that you first check the CPSC website or call the organization's hotline (1-800-638-CPSC) to learn what models and brands have been recalled and to find information related to the recall. Davis adds that if you should find a recalled model while shopping online that you notify the CPSC. "We have an Internet surveillance team that will work with website owners to remove any products that have been recalled," she said.
So then, what to do if you learn that your dishwasher has been recalled? Depending upon the problem, says Davis, the manufacturer will provide a refund, a repair or a replacement to the consumer. These remedies are listed with the recall notices found on the CPSC website and will also be included with any notice sent by the manufacturer to customers that have provided their contact information when they filled out and sent in their warranty.
"It's up to the consumer to contact the company to take advantage of the remedy for the recall," said Davis. "If the company fails to live up to its obligation, consumers should contact and notify the CPSC. However, most companies are very responsive and will handle a recall issue immediately."
Notini notes that with each recall, the companies her organization represents get better at designing their products and eliminating future risks. She said that members also work to make the necessary remedies readily available to their customers should a problem occur. "We work with the CPSC and the media to get the word out and then to implement a resolution very quickly," she said.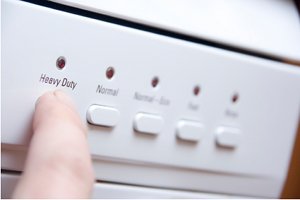 How to Buy a Dishwasher
Beyond checking with the CPSC to learn which brands and models have been recalled, Saltzman says there are a few issues that consumers should consider before making a purchase.
The first is to ensure that you buy the right size dishwasher. "It is a standard issue kind of thing," he said. "Most dishwashers are 24 inches wide, though there are a few that are 18 inches wide, so it's important to measure the size of the space under the counter that you have."
Saltzman also suggests taking a look at the Consumer Reports website for helpful tips on what to look for and watch out for. Consumer Reports is also preparing a report on dishwashers for its August 2009 issue, he said. Concerns raised by Consumer Reports include:
Testing and consumer surveys showed that dual drawer models have a higher repair rate and did not work all that well. In particular, dual drawer dishwashers by Fisher & Paykel had a 25 percent repair rate.
Consumer Reports also found that Maytag and Asko brand dishwashers had a relatively high repair rate of approximately 15 percent.
Many states are moving to ban dishwasher detergents containing phosphate. While studies by Consumer Reports are not yet definitive, there is enough evidence to suggest that dishwasher performance is reduced when non-phosphate detergents are used. The company is doing more testing to better understand the issue and determine if one brand or type works better than another.
The new wave of Energy Star qualified models is far more efficient than previous Energy Star qualified models. According to Saltzman, models that are Energy Star qualified are up to 20 percent more efficient in terms of electricity and water usage than non-qualified models.
Increased efficiency has also come with longer cycle times. For some dishwashers, cycle times could be as long as three hours, while for most others it is around two hours, which is still quite a bit longer than older models. Consumers should consider how long a dishwasher needs to run and what works best for their needs.
The elderly and those with back or motility issues may want to opt for models that automatically filter debris from the water as opposed to manual two-step systems. To determine which type would be best for you Saltzman recommends reading the dishwasher's specs as well as talking with the sales person.
As dishwashers offer more and more features, it is important that consumers make the effort to understand how to properly operate them. For example, some dishwashers include fairly sophisticated instructions for how to rack dishes in order to improve performance and efficiency. Others have specialized settings depending on what is being washed (e.g. crystal or pots and pans) as well as for energy saving cycles and more.
Notini adds that consumers should pay special attention to Energy Star ratings not just for the increased efficiency, but in order to find discounts and rebates. "People can go to the Energy Star website where they can enter their zip code to find rebates from either a manufacturer or their state," she said. "The recently passed stimulus package also includes a rebate that has not yet been implemented, but federal money will be sent to states, and based on regional need the state can determine how it will be used and for what products."
Capacity is also an important issue to consider. Large families or those people that do a lot of entertaining may need a larger space for more place settings or more space for pots and pans. Consumers should also look for dishwashers with features that match their needs. For example, many offer cycle options that use less water or air dry rather than heat, or a sanitization cycle and so on. Some dishwashers are even coming with soil sensing technologies that detect the volume of particles in the first rinse water in order to determine how much water and detergent to use during the wash cycle.
That said, Consumer Reports notes that for those on a budget, it is not necessary to spend hundreds or more than a thousand dollars on a dishwasher as basic models will perform well at cleaning dishes.
"Consumers should be smart and consider their needs as well as rebates and incentives that may be available to them," said Notini. "Also, in this economic climate, we are all looking for a break and people should consider ongoing operating costs in addition to the upfront expense. One model may look cheaper to buy than another, but you lose those savings overtime if the dishwasher isn't efficient."